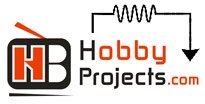 Electronic Circuits and Tutorials
Transistor Fault Finding - Electronic Tutorials
Upper Base Bias Resistor Open Circuit Tutorial
With R1 o/c there is no voltage on the base, no base bias and no base current.
The transistor is OFF and there is no collector current and no voltage drop across R3.
The collector voltage will be the same as the supply volts, +9.
There is no current through R4, so there is no voltage drop across it.
The voltage at both ends is the same, zero volts.
---
Note:
To report broken links or to submit your projects, tutorials please email to
Webmaster